What is #StickAForkInIt? a show about the groundbreaking work being done in Tampa Bay and the influencers that elevate this top market to one of the most innovative and compassionate places to live, work and play. A 10-county region where hunger is addressed in a meaningful way, our neighbors are advocated for daily and our community's most inspiring leaders align to lift our neighbors to a space of health and capability. Hosted by just a few of the dynamic team at Feeding Tampa Bay, we invite you to listen in and find out how you can join the movement and please follow us for updates on our work or leave us a message on Facebook, Instagram, Twitter, LinkedIn and YouTube all @FeedingTampaBay. Talk at you soon!
Episodes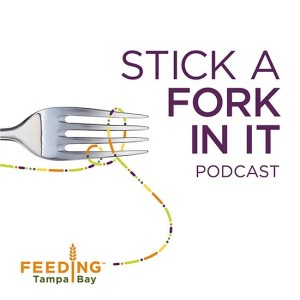 Wednesday Sep 21, 2022
Wednesday Sep 21, 2022
What does the study of Anthropology have to do with fighting hunger? Well, more than you'd think! Not only does studying human nature tell us tons about how people cope with hunger, it can also tell us how to combat it. On today's episode we sit with our longtime academic associate, Dr. David Himmelgreen, to talk about the ways that people all over the world are alike, and how we learn better ways every day to help them.
Wait for it... This is our first podcast episode with a visual follow up, where you can join Thomas and Shannon on an adventure into the worlds of our guests and the community we serve. Tune in for, Stick A Fork In It TV -- brought to you regularly on our YouTube channel. This first one will launch next Wednesday, September 28th. So be sure to follow us there for updates!
And to see all the other ways we're working to fight hunger, follow us on your favorite social media @FeedingTampaBay.